Foreign Ministry Spokesperson Wang Wenbin's Regular Press Conference on March 25, 2022
---
2022-03-25 19:19
Bloomberg: Russia says Foreign Minister Sergei Lavrov is coming to Beijing for a meeting to discuss Afghanistan on March 31. During that meeting, will there be an opportunity to discuss the situation in Ukraine? And will that be an opportunity for China to push for a ceasefire and protection of civilians in Ukraine?
Wang Wenbin: We are speeding up preparations for the third Foreign Ministers' Meeting among the Neighboring Countries of Afghanistan. China will continue to leverage its strength as a neighbor of Afghanistan and contribute to its lasting peace and stability. More information about the meeting will be released in due course. 
CRI: On March 24, State Councilor and Foreign Minister Wang Yi paid a visit to Afghanistan. Could you tell us more about that?
Wang Wenbin: Yesterday, State Councilor and Foreign Minister Wang Yi paid a visit to Afghanistan, during which he held talks with Acting Deputy Prime Minister Mullah Abdul Ghani Baradar and Acting Foreign Minister Amir Khan Muttaqi of the Afghan interim government. This is the first visit by the Chinese foreign minister since the change of government in Afghanistan last year. The visit is of great significance as it will have a positive effect on promoting peace and reconstruction in Afghanistan and upholding peace and stability in the region. 
State Councilor Wang Yi noted during the talks that China and Afghanistan are friendly neighbors connected by mountains and rivers with bilateral exchanges dating back over a thousand years. China respects Afghanistan's independence, sovereignty and territorial integrity, respects the independent choices made by the Afghan people and respects the religious belief and ethnic custom of the Afghan people. China does not interfere in Afghanistan's internal affairs, nor does it seek self-interest or sphere of influence in Afghanistan. As our Afghan friends often say, China is the only major country that has never hurt Afghanistan. China is ready to carry forward the traditional friendship between the two peoples and develop normal and friendly neighborly relations with Afghanistan on the basis of the five principles of peaceful coexistence, in an effort to help the country achieve true independence and endogenous development and take its future firmly in its own hands. It is hoped that the Afghan interim government can establish an inclusive political framework, adopt prudent policies and make positive efforts in line with the Afghan people's interests and the international community's expectations. State Councilor Wang stressed that the ETIM is a terrorist organization listed by the UN Security Council and designated by the Chinese government in accordance with law. We hope Afghanistan can earnestly fulfill its commitments and take effective measures to resolutely combat the ETIM and all other terrorist forces. 
The Afghan side welcomed the visit by the Chinese delegation led by State Councilor Wang Yi, noting that this visit by the most important high-level delegation it had received will further strengthen the time-honored friendship between Afghanistan and China. The Afghan side thanked China for its valuable assistance, especially the much-needed humanitarian winter supplies for the Afghan people. The Afghan side stressed that the Afghan Taliban is a responsible government and would like to reiterate to China and the rest of the world that it will never allow activities by any terrorist in Afghanistan; it will never allow anyone or any organization to use the Afghan territory to conduct actions targeting other countries; and it will never allow any force to engage in activities detrimental to China. The Afghan side attaches importance to China's security concerns and will take concrete and robust measures to ensure safety in the whole of Afghanistan and contribute to regional security. The Afghan side expressed high appreciation for the Chinese embassy's uninterrupted operation in Afghanistan, which stands as a testament to the strong relations between the two sides. Afghanistan cherishes its friendship with China, and appreciates the assistance offered by China at the most trying times, especially anti-epidemic support and direly needed humanitarian assistance. Afghanistan is ready to capitalize on its unique geographic advantage to participate more in the Belt and Road cooperation and serve as bridge in regional connectivity. 
State Councilor Wang said that on the premise of respecting Afghanistan's sovereignty, China is ready to carry out mutually beneficial cooperation with Afghanistan in an orderly manner with a focus on improving people's livelihood and enhancing Afghanistan's capacity for self-reliant development, so as to help Afghanistan translate its rich resources into development opportunities. In this process, we will work for tangible results instead of making empty promises. China appreciates and welcomes Afghanistan's active participation in the Belt and Road Initiative, and will work towards extending the China-Pakistan Economic Corridor to Afghanistan, replicate more successful experiences, and make Afghanistan, with the geographical strength as the "Heart of Asia", a bridge for regional connectivity.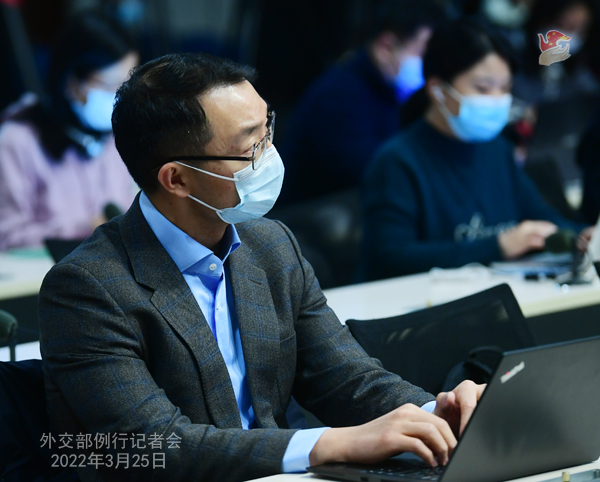 Reuters: A draft of a security cooperation agreement between China and Solomon Islands has recently prompted some concern from members of the Australian government. The draft of the security cooperation agreement, which was shared on social media yesterday, proposes giving China the right to use its forces to protect the safety of Chinese personnel and major projects in Solomon Islands. It will also allow Chinese ships to visit and make stopover at this archipelago. We want to ask the foreign ministry, firstly does it acknowledge that this draft is authentic, and secondly do you have any further comment on the contents of the draft?
Wang Wenbin: We have made clear our position on China-Solomon Islands policing and security cooperation on many occasions. In November last year, serious unrest broke out in Solomon Islands, putting the lives and property of the people at great risk. China firmly supports the Solomon Islands government in ending the violence and chaos and maintaining stability. China has provided multiple batches of police equipment and sent an ad-hoc police advisory team to the country to conduct training and help its police strengthen capacity-building, which has been widely praised by the Solomon Islands government and all sectors of society. As two sovereign and independent states, China and Solomon Islands conduct normal law enforcement and security cooperation on the basis of equality and mutual benefit, which conforms to international law and customary practice. Such cooperation is conducive to maintaining stability in Solomon Islands, promoting regional peace and stability, and enhancing the common interests of China, Solomon Islands and other countries in the region.
TASS: The latest deterioration in the Russia-Ukraine situation will affect China's import of grains from Ukraine. Is China looking at this issue and trying to find new ways to ensure its food security? If Ukraine is unable to export grains including wheat, will China form new supply chains and start buying more grains from other countries such as Russia?
Wang Wenbin: Please turn to the competent authorities for an answer to this question. I would like to say that the situation in Ukraine has had and will continue to have an enormous impact on the global economy and trade, finance, energy, food and the industrial and supply chains, severely affecting the normal life of people in all countries and debilitating the already struggling world economy. The momentum of global economic recovery should not be dampened and people around the world should not be made to pay the price for geopolitical conflict and major power rivalry. China will continue to play a constructive role in easing the situation in Ukraine and stands ready to strengthen communication and cooperation with all parties to provide more positive energy for the steady, sound and sustainable development of the world economy.
AFP: The US has imposed fresh sanctions on North Korea after the country launched an intercontinental ballistic missile on Thursday. How does China react to this? And second question, ROK media reports say that President Xi Jinping is expected to have a phone call with the newly-elected ROK President Yoon Suk-yeol. Will the two leaders also discuss the latest North Korean missile launch? And could you also confirm whether such a call is actually going to take place?
Wang Wenbin: On your first question, we have noted with concern the latest developments. It is our consistent view that dialogue and consultation is the only right path to resolving the Korean Peninsula issue. Under current circumstances, any step that might lead to further deterioration or escalation of the situation is ill-advised.
It is in all sides' interest to sustain the momentum for dialogue and deescalation, safeguard peace and stability on the Korean Peninsula, and advance the political settlement process. It is hoped that all sides will remain calm, exercise self-restraint, stay committed to the course of political resolution, exchange good will, resume dialogue as soon as possible, and work actively to find a solution to break the deadlock. China will continue to play a constructive role in realizing the denuclearization of the Peninsula and advancing the political settlement of the Peninsula issue.
On your second question, China and the ROK are important close neighbors and cooperation partners. President Xi Jinping sent a congratulatory message to Mr. Yoon Suk-yeol upon his election as President of the ROK, and expressed the positive position of attaching importance to and hoping to develop China-ROK relations. Both sides place emphasis on the guiding role of high-level exchange in bilateral friendship and cooperation. With regard to the phone call you mentioned, we will release information in a timely manner.
Dragon TV: It is reported that ASEAN's special envoy for Myanmar and Cambodian Deputy Prime Minister and Foreign Minister Prak Sokhonn paid a working visit to Myanmar from March 21 to 23. This is the ASEAN's special envoy's first visit to Myanmar. Do you have any comment on this latest development?
Wang Wenbin: The first visit to Myanmar made by ASEAN's special envoy for Myanmar is an important step in the special envoy's mediation efforts following the five-point consensus of ASEAN. Myanmar is a member of the ASEAN family. China supports ASEAN in properly handling the Myanmar issue in the ASEAN way. We support Cambodia, the rotating ASEAN chair, in playing an active role and making important contributions to help all parties in Myanmar properly settle their disputes through political dialogue and resume stability and development at an early date. 
Reuters: I want to just follow up on the question about this security cooperation agreement between China and Solomon Islands. Specifically is the foreign ministry aware that the Australian government has already expressed concerns about this draft? Defense Minister Peter Dutton has already said that this is perhaps something that could become a Chinese military base on the islands. And so we just wanted to ask the foreign ministry whether it's aware of the specific reports regarding this draft and whether you could comment on the veracity of these reports?
Wang Wenbin: As I just said, China and Solomon Islands conduct normal law enforcement and security cooperation on the basis of equality and mutual benefit, which serves the interests of both countries and others in the region. We hope relevant sides will look at this in an objective and rational light and refrain from reading too much into it. It is irresponsible for a few Australian politicians to make absurd remarks about China "coercing" others. Such remarks intended to create an atmosphere of tension are not conducive to peace and development in the region.
CCTV: Speaking on the 23rd anniversary of the start of the NATO bombing of the Federal Republic of Yugoslavia, Serbian President Aleksandar Vučić said in an interview on March 24, "Now, after 23 years, one can see with clarity how despicable, ill-judged, unlawful and immoral this operation by 19 NATO countries was" and how "ridiculous, even stupid, to hear them now blaming Russia for its so-called aggression against Ukraine", adding that "the morals, principles and values they constantly talk about do not exist at all". Does China have any comment?
Wang Wenbin: On March 24 1999, US-led NATO forces blatantly bypassed the UN Security Council and began the 78-day incessant bombing of the Federal Republic of Yugoslavia, a sovereign country, in grave violation of relevant international conventions and basic norms governing international relations. In 12,000 strikes, over 10,000 tonnes of explosives were dropped and more than 3,000 missiles fired, targeting everything from medical facilities to ancient cultural relics, residential buildings and schools. Thousands of innocent civilians including three Chinese journalists were killed. During the bombing campaign, NATO even used depleted uranium bombs prohibited by international conventions, causing long-term damage to Serbia's environment and people's health. The people of Serbia will not forget NATO's aggression, nor will the people of China and the rest of the world.
NATO is convening a summit on Ukraine on the 23rd anniversary of its bombing of the Federal Republic of Yugoslavia. I wonder if the US and other NATO members have asked themselves: What is the root cause of the Ukraine crisis? What responsibility should the US and NATO assume? Before reflecting on their crimes against the people in countries like Serbia, Iraq and Afghanistan, the US and NATO have neither right nor authority to judge others. Born out of the Cold War, NATO serves no other purpose than war. It has never contributed to peace and security of our world and will never do so. All those who truly love peace and are committed to advancing peace will resolutely reject NATO's continued expansion. 
CNR: According to reports, the federal government of Ethiopia declared a humanitarian truce in the Tigray region in a statement on March 24. Do you have any comment?
Wang Wenbin: Recently Ethiopia's government announced an "indefinite humanitarian truce" allowing humanitarian relief supplies into the Tigray region to improve the humanitarian situation on the ground. China welcomes this. China supports all parties in Ethiopia in bridging differences, quelling the conflict and realizing reconciliation through dialogue and negotiation, and sincerely hopes that Ethiopia will enjoy peace and stability and achieve development and prosperity. China has provided humanitarian assistance to Ethiopia, including food and vaccines, to help ease the humanitarian difficulties in the northern part of the country. China's special envoy for the Horn of Africa affairs of the Foreign Ministry lately visited countries in the region, including Ethiopia. Going forward, China will continue to provide humanitarian assistance to Ethiopia, including the Tigray region, and contribute to promoting regional peace, stability and development. 
Reuters: Does the foreign ministry have any details to share about Foreign Minister Wang Yi's potential visit to India?
Wang Wenbin: We will release information on State Councilor and Foreign Minister Wang Yi's working visit to India in a timely manner. Please stay tuned.
The Paper: NATO Heads of State and Government issued a joint statement after their meeting on March 24, calling on all states, including China, to uphold the international order including the principles of sovereignty and territorial integrity as enshrined in the UN Charter, to abstain from supporting Russia's war effort in any way, and to refrain from any action that helps Russia circumvent sanctions. Do you have any comment on that?
Wang Wenbin: China proceeds from the merits of the matter itself on the Ukraine issue and makes effort to deescalate the situation, resolve the crisis and rebuild peace. 
We always maintain that nothing is more precious than peace. The pressing priority at this moment is to cease hostilities, and dialogue and negotiation is the most realistic and viable way to do so. The international community should encourage Russia and Ukraine to keep up the talks rather than the fighting. The continuation and escalation of the conflict will only cause greater casualties and serve no one's interest. Escalating sanctions will benefit only a few while making the people suffer. 
We always believe that security is indivisible. Seeking bloc confrontation and absolute security will only lead to the most insecure scenario. Ukraine should be a bridge for communication between the East and the West, rather than the frontline for major power rivalry. Countries in Europe should work to build a balanced, effective and sustainable regional security architecture, rather than redraw the line of confrontation between the East and the West. The US and NATO should hold dialogue with Russia, rather than start a new Cold War. 
We always hold that there should be no double standard in international relations. Ukraine's sovereignty and security should be upheld, and Russia's legitimate security concerns should also be respected. Europe's peace and stability should be defended. The same goes for other countries. One shall not wage wars across the world while saying it's against war, or wantonly shatter peace while claiming to uphold peace. 
China plays a constructive role on the Ukraine issue. We speak for justice and work for peace with a long-term vision. We support dialogue and negotiation, actively provide humanitarian assistance to Ukraine and other affected countries, and stand ready to work with the international community to promote the political settlement of the Ukraine crisis as soon as possible. We call on relevant parties to remain cool-headed and restrained, show political will, and make sure their rationality prevails over emotions, vision triumphs over short-sightedness, and common interests rise above selfish gains. We call for efforts to achieve a ceasefire at an early date, avoid civilian casualties, prevent a larger-scale humanitarian crisis and to realize the long-term peace and stability in Europe and beyond.
China's position is in line with the wishes of most countries. We stand against groundless accusations and suspicions targeting China, and never accept any pressure and coercion. Time will prove that China's position is on the right side of history. 
AFP: Could you confirm the exact dates for this conference of Afghanistan's neighbors? Is it starting on March 30 or 31? And in addition to the confirmed attendance by Russia and Pakistan, who else might be attending?
Wang Wenbin: We will release information in due course, where you will find answers to these questions.