Foreign Ministry Spokesperson Zhao Lijian's Regular Press Conference on April 6, 2022
---
2022-04-06 19:50
CCTV: In a recent report, the Chongyang Institute for Financial Studies at Renmin University of China gave a full review of the means, features and impacts of and lessons from the US' sanctions against Russia. It pointed out that increasing sanctions across the board is not helpful for solving the issue, but has serious negative impacts on Russia, Europe and beyond, leading to global inflation, disruption to supply chains and slower economic recovery. Do you have any comment?
Zhao Lijian: Since the conflict between Russia and Ukraine broke out, the US has been increasing unilateral sanctions on Russia and coercing other countries to take side. This report you mentioned points out that in the past eight years from 2014, a group of countries, led by the United States, imposed 8,068 sanctions designations on Russia, making it the most sanctioned country in the world followed by Iran. Since February 22 this year, 5,314 new sanctions designations have been slapped on Russia. 
I also noted that Russian Security Council Deputy Secretary Mikhail Popov said, in a contrasting move to its pressuring of European countries to not buy Russian oil, the US increased crude oil imports from Russia by 43% to 100,000 barrels per day over the past week, and allowed its companies to import mineral fertilizers from Russia. The ongoing war and sanctions have incurred an influx of refugees, capital outflow and energy shortage in Europe, but enabled the US to earn profit and make a fortune. 
History and reality have made it clear that sanctions cannot guarantee peace or security, and will only lead to a lose-lose situation, further impacting the already languishing world economy and the existing global economic system. If the US is serious about easing the situation in Ukraine, it should stop adding fuel to the fire, stop imposing sanctions, stop coercive words and deeds and truly commit to promote peace talks. 
CRI: Serbian President Aleksandar Vučić declared victory on April 3 in the country's first round of presidential elections. What's China's comment? And what expectations do you have for future relations with Serbia?
Zhao Lijian: We have noted the situation with the elections. President Xi Jinping sent a congratulatory message to President Vučić on his reelection on April 5.
China and Serbia are comprehensive strategic partners with a profound traditional friendship. In recent years, President Xi and President Vučić met several times and built a good working relationship and personal friendship, which has steered bilateral relations onto the path of leapfrog development. The two sides support each other on issues concerning respective core interests, work together to promote the building of a community with a shared future for mankind, and jointly uphold international equity and justice. Practical cooperation between the two sides in such areas as infrastructure and energy has delivered fruitful outcomes and advanced the welfare of both peoples.
We believe that under the leadership of President Vučić, Serbia will make greater achievements in its national development. With our concerted efforts, the China-Serbia comprehensive strategic partnership will continue to deepen and bilateral ties will enjoy an even brighter future.
Beijing Daily: The US Defense Security Cooperation Agency said in a press release on April 5 that the State Department has approved a sale of up to $95 million worth of military technical support and related equipment to the "Taipei Economic and Cultural Representative Office in the United States". It mainly consists of training, planning, deployment, operation, maintenance, and sustainment of the Patriot Air Defense System and other equipment. Do you have any comment?
Zhao Lijian: US arms sales to China's Taiwan region seriously violate the one-China principle and the three China-US joint communiques, especially the August 17 Communique, gravely undermine China's sovereignty and security interests, and severely harm China-US relations and peace and stability across the Taiwan Strait. China rejects and deplores this. 
The US side should abide by the one-China principle and the three China-US joint communiques, cancel the above-mentioned arms sale plan, stop arms sales to and military contacts with Taiwan. China will take firm and robust measures to resolutely safeguard its sovereignty and security interests.
China News Service: A US organization for the rights of the poor in collaboration with UN economists produced "A Poor People's Pandemic Report". Do you have any comment on it?
Zhao Lijian: I noted this report. It found that death rates in poor counties in the US were almost double the death rates of those in rich counties. The 300 counties with the highest death rates have a poverty rate of 45% on average. During the third phase of the pandemic, death rates were 4.5 times higher in the group of counties with the lowest median income compared to those in the group with the highest median income. The latest Omicron has had a death rate nearly three times higher in counties with lower median incomes. Lack of access to health insurance by people in poor counties is believed to be a highly relevant factor.
According to another research, "The risk of hospitalization from COVID-19 is roughly three times higher among American Indian and Alaska Native people compared with whites, while the risk of death is approximately double." The Indigenous people suffer from persistent "discrimination, marginalization, inability to see preferred clinicians, and systemic underfunding" of relevant medical services, as well as lack of access to running water, healthy food and basic public utilities. The findings of relevant report and research point sharply to the US government and society's deliberate disregard for and discrimination against the poor and ethnic minorities, which has obviously restricted their ability to get treatment.
As this report reveals at the beginning, "though COVID-19 doesn't discriminate, US society does". If the US government truly values and protects human rights, then it should value and protect the life and safety of each and every individual without discrimination.
Bloomberg: The US, the UK and Australia have all said that they are working on developing hypersonic weapons as part of their new trilateral security pact, which is called AUKUS. That grouping was formed to counter what those nations believe is a more aggressive stance from China. Does the foreign ministry have a comment on this?
Zhao Lijian: Exploiting the Ukraine crisis and using the pretext of maintaining security and stability in the Asia-Pacific, AUKUS has declared in a high-profile manner that the US and the UK will provide nuclear-powered submarines to Australia and the three countries will cooperate on advanced military technologies such as hypersonic weapons. It not only increases nuclear proliferation risks and brings shocks to the international non-proliferation system, but also intensifies arms race and undermines peace and stability in the Asia-Pacific. Countries in the region should be on a higher alert.
AUKUS is an Anglo-Saxon clique, where the old thinking of Cold War mentality and bloc politics persists and the old trick of provoking military confrontation and adding fuel to the flame lingers. Its ultimate goal is to build a NATO replica in the Asia-Pacific to serve the US hegemony and self-interests. Asia-Pacific countries will resolutely say no to it for sure. 
One should not correct others before mending his own ways. The US, the UK and Australia are advised to face up to the aspiration of Asia-Pacific countries for peace, development, cooperation and win-win results, abandon the Cold War mindset and zero-sum game, faithfully fulfill their international obligations and do more things that contribute to regional peace and stability.  
Reuters: Reports showed that many civilians have been killed in the Ukrainian town of Bucha. Ukraine said this is a war crime committed by Russia. Russia said the evidence presented was staged by the West to discredit it. Does China believe Russia when it said evidence of the civilian killings was staged by the West?
Zhao Lijian: China attaches great importance to the humanitarian situation in Ukraine and is highly concerned with the harm to civilians. We have put forward a six-point initiative on alleviating the humanitarian situation and taken concrete steps to provide emergency humanitarian assistance to Ukraine. The reports and images of civilian deaths in Bucha are deeply disturbing. The relevant circumstances and specific causes of the incident must be verified and ascertained. Humanitarian issues shouldn't be politicized. Any accusations should be based on facts. Before the full picture is clear, all sides should exercise restraint and avoid unfounded accusations. China supports all initiatives and measures conducive to alleviating the humanitarian crisis in Ukraine and stands ready to continue working with the international community to prevent harm to civilians.
Yonhap News Agency: In response to the DPRK's launch of intercontinental ballistic missile, the ROK and the US chief representatives for the six-party talks are reportedly seeking a new UN Security Council resolution. Will China agree to push for a new UN Security Council resolution on the DPRK? Does Ambassador Liu Xiaoming, the Special Representative of the Chinese Government on Korean Peninsula Affairs, have any plan to visit the ROK?
Zhao Lijian: On your first question, China's position on the Korean Peninsula issue is consistent and clear-cut. We are committed to maintaining peace and stability on the Peninsula, realizing denuclearization of the Peninsula and resolving the issue through dialogue and consultation. Under the current circumstances, any action that may lead to further deterioration and escalation of the situation is ill-advised. We hope relevant parties will remain calm, exercise restraint, stick to the general direction of political settlement, conduct meaningful dialogue as soon as possible and explore effective solutions to address the concerns of all parties in a balanced way.
On your second question, we will release information in a timely manner if there's any.
Hubei Media Group: According to reports, UNCTAD Secretary General Rebeca Grynspan said the other day that the Global Development Initiative (GDI), with a framework of principles and priorities, is closely linked to improving people's livelihood and conducive to realizing the Sustainable Development Goals. UNCTAD looks forward to cooperating with the GDI in the research, assessment and technical cooperation plans of specific programs. What is China's comment?
Zhao Lijian: China highly appreciates Secretary General Rebeca Grynspan's positive remarks on the Global Development Initiative (GDI). We look forward to strengthening strategic alignment with UNCTAD, promoting the GDI's implementation and jointly responding to global challenges.
The GDI aims at speeding up the implementation of the 2030 Agenda for Sustainable Development, practices true multilateralism, upholds the spirit of openness and inclusiveness and the principles of extensive consultation, joint contribution and shared benefits, and stays open to all countries. The international community has actively responded to and participated in the GDI since its inception. More than a hundred countries and international organizations including the UN have expressed support for the initiative so far. This fully shows that accelerating the implementation of the 2030 Agenda for Sustainable Development is a shared aspiration of all countries, especially developing countries. The core concept of the GDI is based on extensive international consensus and its focus of cooperation dovetails with the priorities of development cooperation among parties and the whole world, thus laying the groundwork for the initiative's steady and sustained operation.
Major adjustments are brewing in the international landscape and global development is facing a more complicated and serious situation. It is ever more important for all parties to deepen practical cooperation under the GDI framework, defend the interests of common development, and realize common development toward the sustainable development goals set forth by the 2030 Agenda.
China is ready to work closely with all interested countries, regions, and international organizations including the UN development system in particular to jointly encourage the international community to focus on development issues, deepen global development partnerships, build a global community for development and together make greater contribution to accelerating the implementation of the 2030 Agenda for Sustainable Development. 
China Daily: According to reports, Hans Grundberg, the UN Special Envoy for Yemen, announced that parties to the conflict in Yemen have agreed to a two-month truce. The Yemeni government and the Houthis both welcomed the agreement. Does China have any comment?
Zhao Lijian: China welcomes the truce agreement reached by parties to the conflict in Yemen. It is hoped that relevant parties to the Yemeni issue will put the interests of their country and people first, resolve differences through dialogue and consultation, and realize a political settlement of the Yemeni issue and restore security and stability in the country at an early date.
Bloomberg: The Pakistani Prime Minister Imram Khan has on Sunday blocked a planned no-confidence vote and called for a fresh election. Does China have any response to this?
Zhao Lijian: China follows the principle of non-interference in other countries' internal affairs. China and Pakistan are all-weather strategic cooperative partners. History has proven time and again that China-Pakistan relations have always been unbreakable and rock-solid, no matter how the international landscape and their respective domestic situations may change. We believe that the overall situation of China-Pakistan cooperation and the construction of the China-Pakistan Economic Corridor will not be affected by the political situation in Pakistan. As Pakistan's iron-clad friend, we sincerely hope that all parties in Pakistan will remain united and work together for national development and stability.
AFP: The EU's top diplomatic representative Borrell said that during last week's EU-China summit, Chinese officials did not want to talk about Ukraine. What's your response?
Zhao Lijian: The leaders of China and the EU recently held a very successful meeting. The remarks of the relevant EU official run counter to facts. What the relevant EU official should do is advance the bilateral relations between China and the EU in accordance with the consensus and spirit reached at the China-EU Summit, instead of making irresponsible remarks.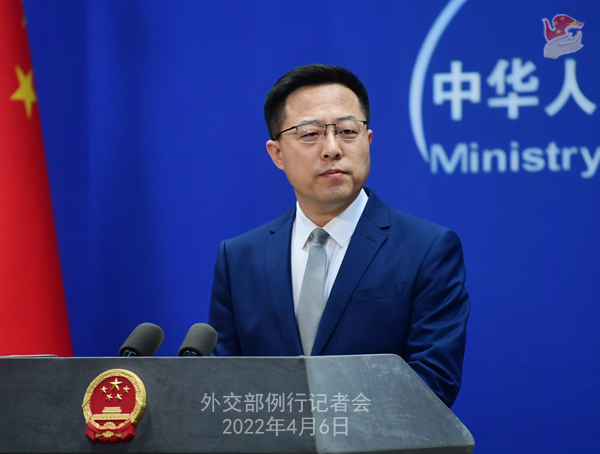 Xinhua News Agency: According to reports, Hungarian Prime Minister Viktor Orban announced the victory of the ruling party Federation of Young Democrats in parliamentary elections on April 3. What is China's comment and expectations for the development of China-Hungary relations?
Zhao Lijian: Premier of the State Council Li Keqiang sent a congratulatory message to Hungary's Prime Minister Viktor Orban at the first opportunity available. State Councilor and Foreign Minister Wang Yi spoke with Foreign Minister Péter Szijjártó and congratulated the Federation of Young Democrats on winning the Hungarian parliamentary elections again. China and Hungary enjoy profound traditional friendship and have witnessed high-standard development of bilateral relations in recent years. China is ready to work with Hungary to maintain high-level exchanges, further enhance strategic mutual trust, deepen practical cooperation in various areas and elevate China-Hungary comprehensive strategic partnership.
Bloomberg: The President of the European Commission Ursula von der Leyen just said that China needs to take a clear stance on the Ukraine issue. Do you have a response to what she just said?
Zhao Lijian: China's position on the Ukraine issue is very clear. I have already elaborated on China's position when taking the question from AFP.