Foreign Ministry Spokesperson Zhao Lijian's Regular Press Conference on May 10, 2022
---
2022-05-10 20:27
Reuters: Numerous reports have noted that the US State Department's website has recently updated its page on US-Taiwan relations, removing expressions such as "Taiwan is part of China" and "The United States does not support Taiwan independence". Does the foreign ministry have any comment on this?
Zhao Lijian: There is only one China in the world. Taiwan is an inalienable part of the Chinese territory. The PRC government is the sole legal government representing the whole of China. This is a universally-recognized norm governing international relations and common consensus of the international community. History brooks no falsification, facts cannot be denied, and right and wrong should not be distorted. The US has made solemn commitments on the Taiwan question and the one-China principle in the three China-US joint communiqués. The US' latest modification of the fact sheet is a trick to obscure and hollow out the one-China principle. Such political manipulation of the Taiwan question and the attempt to change the status quo across the Taiwan Strait will hurt the US itself.
The US should abide by the one-China principle and the stipulations of the three joint communiqués, follow through on the political commitments on the Taiwan question it made to China, and fulfill President Biden's statement that the US does not support "Taiwan independence" with real actions. It should stop engaging in political manipulation of Taiwan-related issues and containing China with the Taiwan question.
China Daily: On May 9, G7 foreign ministers and the High Representative of the European Union issued a statement expressing "grave concern" over the election of the Sixth-Term Chief Executive of the Hong Kong Special Administrative Region (HKSAR). What is China's comment? 
Zhao Lijian: Certain Western countries and organization ganged up to maliciously smear the election of the Chief Executive of the HKSAR and grossly interfere in China's internal affairs. China firmly rejects and strongly condemns this. 
The just-concluded election of the Sixth-Term Chief Executive of the HKSAR is another successful implementation of the new electoral system in the HKSAR. The election process was conducted in a fair and just manner in accordance with laws and regulations. The election result is widely expected and welcomed by the people. It fully demonstrates the new vitality of the democratic practice in Hong Kong and the true democratic spirit. Certain countries, in defiance of the facts about Hong Kong's improved democracy and against the mainstream public opinion in Hong Kong for solidarity and progress, style themselves as a "lecturer" on democracy and make irresponsible remarks on the democratic election in the SAR and Hong Kong's high degree of autonomy, human rights and freedom. By doing so, they are only revealing their hypocrisy, double standards and the plots to contain China by destabilizing Hong Kong. 
Hong Kong is China's Hong Kong. The kind of electoral system and the choice of democratic path is purely China's internal affair that allows no foreign interference. Relevant countries and organization should respect China's sovereignty, abide by international law and basic norms governing international relations, and immediately stop interfering in Hong Kong affairs and other internal affairs of China in any form. The Chinese government is firmly committed to fully and faithfully implementing the principle of One Country, Two Systems and developing sound democracy that suits Hong Kong's reality. No external forces can attain the end with pressure and sabotage. We believe Hong Kong will open up a new prospect of good governance and write a new chapter of strides from stability to prosperity. 
Beijing Daily: On May 9, Special Representative of President Xi Jinping, State Councilor and Foreign Minister Wang Yi attended the Leaders' Meeting on Drought and Sustainable Land Governance held in Côte d'Ivoire and delivered a speech via video link. Could you offer more information on that?
Zhao Lijian: On the night of May 9, Special Representative of President Xi Jinping, State Councilor and Foreign Minister Wang Yi attended and addressed the Leaders' Meeting on Drought and Sustainable Land Governance in a pre-recorded video. He elaborated on China's proposition on global drought and desertification governance, and shared the Xi Jinping thought on ecological progress, the Global Development Initiative, and China's achievement in desertification prevention and treatment. He proposed that we need to make solid efforts to strengthen international cooperation, take firm actions to promote green development, and take effective steps to improve international rules. On behalf of China, he also called on all sides to increase support for Africa and work together to enhance drought and desertification prevention and treatment, achieve sustainable development, and create a cleaner and more beautiful world.
State Councilor Wang Yi's remarks were warmly received among all parties at the meeting, especially African countries. They applauded China's vigorous cooperation with Africa and active participation in global environmental governance, admired China's exemplary achievement of becoming one the first countries to realize land degradation neutrality, and expressed their expectation that China will play a leading role in green and low-carbon development globally.
The summit is the high-level segment of the 15th session of the Conference of the Parties (COP15) of the United Nations Convention to Combat Desertification. It adopted the Abidjan Call to strengthen global desertification governance with political will and bolstered all parties' ambitious vision for land restoration and drought response. The meeting was chaired by President Alassane Ouattara of Côte d'Ivoire, and attended and addressed by leaders of more than 10 countries.
CCTV: On May 9, the presidential election was held in the Philippines. Initial results show that presidential candidate Ferdinand Marcos Jr. and vice presidential candidate Sara Duterte Carpio are poised to win. Does China have any comment?
Zhao Lijian: China congratulates the Philippines on the smooth presidential election. Our congratulations also go to the leading candidates. We hope and believe that various political forces in the Philippines will continue to work in solidarity for national renewal and development.
China and the Philippines, facing each other across the waters, enjoy a long-standing traditional friendship. We are good partners for mutually-beneficial cooperation and fellow travelers on the road to common development. Under the strategic guidance of our heads of state, bilateral relations have been steadily upgraded. The flourishing relationship has delivered benefits to both peoples and contributed to regional peace and stability. China will continue to work together with the Philippines to stay committed to good-neighborliness and friendship, focus on post-COVID growth, expand win-win cooperation, and bring more tangible benefits to both peoples.
Hubei Media Group: Venezuela's Foreign Minister Félix Plasencia criticized US "sanctions diplomacy" and strongly condemned US hegemonic practices the other day. What is China's comment?
Zhao Lijian: We have noted the statement of Foreign Minister Félix Plasencia. It is China's consistent belief that sanctions and pressures will win no support, but would only inflict more hardships on Venezuela's economy and people's livelihood. China firmly opposes US unilateral sanctions and so-called "long-arm jurisdiction" on Venezuela. We always support Venezuela's efforts to uphold justice and oppose hegemony.
The US has unceasingly slapped wilful sanctions in disregard of sovereign equality and other basic principles of international law and without UN mandates. By doing so, it seeks to obtain geo-political and economic interests to safeguard its own hegemony. This contradicts the overall interests of the international community, deviates from the overriding public opinion, and constitutes grave violation of international law. 
Instead of solving problems, frequent sanctions imposed by the US have hurt the innocent and caused a series of humanitarian disasters. Venezuela is not the only country that suffers. Victims bearing direct consequences of US sanctions also include Cuba, the DPRK, Myanmar, Iran and Russia. And there are many more countries in the world that are subject to secondary sanctions. All these measures have also taken a toll on the global economic and financial order, and global energy and food security, making the already struggling world economy even worse. 
The US attempt to crush other countries and destabilize the world through "sanctions diplomacy" will only end up hurting its own interests. The US should immediately lift illegal and unilateral sanctions, and stop the erroneous acts of interfering in other countries' internal affairs and disrupting regional situation. 
Phoenix TV: I've got two questions. First, we noted that sources said the EU and Japan will hold a leaders' summit in Tokyo on May 12, and both sides will establish a blueprint for wide-ranging cooperation from trade, to technology and supply chains in an attempt to cut their dependence on China. Do you have any comment on that? Second, Cambodia's Secretary of State Kao Kim Hourn said on May 6 that US President Joe Biden should spend more time with Southeast Asian leaders during a summit in Washington next week if his administration is serious about elevating US ties with the region. He added that ASEAN leaders "should be treated with respect and equality". What is China's comment?
Zhao Lijian: On your first question, China believes that relevant communication and cooperation between the EU and Japan should be conducive to regional stability and development, and to the steady and smooth operation of the global supply chain. Under the current circumstances, all sides should stay united, promote openness and cooperation, and jointly safeguard stability of world economic system, rules and foundation. We need to pursue openness instead of isolation, and seek integration rather than decoupling to jointly strive for steady recovery of the world economy. I also want to stress that the EU-Japan summit is between the two sides. China should not be made an issue, still less should China's internal affairs be interfered in.
On your second question, we have noted that various sides have been questioning the US' real intention in hosting the US-ASEAN Summit and the way the summit is planned and arranged. The world today faces a choice of the times between solidarity and division, and cooperation and confrontation. Asia's voices should be heeded with more attention. Asia's position should be respected. Asia's wisdom should be drawn upon. China will be glad to see countries outside the region playing a positive and constructive role in regional peace and development. But we reject any acts that undermine regional peace, stability, solidarity and cooperation. We stand ready to work with ASEAN nations to jointly uphold ASEAN solidarity and centrality, steer East Asian cooperation in the right direction, and promote regional peace, stability and development.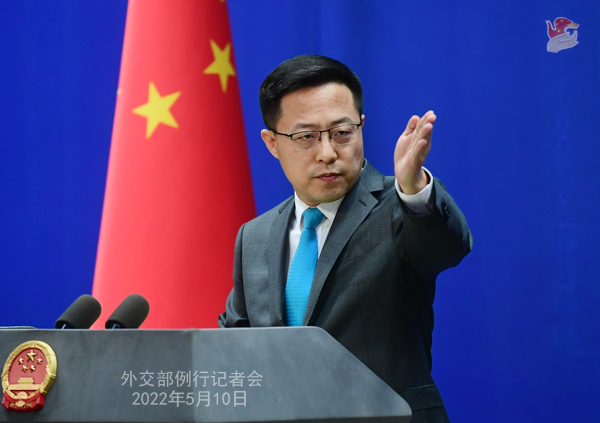 Global Times: The High-Level Virtual Meeting of the Group of Friends of the Global Development Initiative (GDI) was held yesterday. High-level representatives from members of the Group of Friends, UN Secretary-General, heads of UN development agencies attended the meeting. It is reported that the US exerted pressure on multiple UN development agencies, trying to obstruct their attendance. Does China have any comment?
Zhao Lijian: Yesterday, the High-Level Virtual Meeting of the Group of Friends of the Global Development Initiative (GDI) was successfully held at the UN Headquarters in New York. State Councilor and Foreign Minister Wang Yi, UN Secretary-General Antonio Guterres, high-level representatives of more than 50 member states of the Group of Friends and heads of important UN development agencies attended the meeting. All parties spoke highly of the positive role of the GDI in promoting the implementation of the 2030 Agenda and the development of all countries, especially developing countries. They also reached important consensus on future cooperation under the GDI. 
The US pressuring on relevant UN agencies you mentioned is just another example of US-style "coercive diplomacy". While claiming to support international development cooperation, the US is in fact playing tricks by stealth, obstructing and undermining the international community's efforts to promote sustainable development. This shows that the US does not care about the development of developing countries, but its hegemony only. Coercive diplomacy cannot change the persistent pursuit of common development by people of all countries or hold back the historical trend of enhancing international development cooperation and jointly advancing the cause of human development. We urge the US to get a clear understanding of the trend of history, and do more to promote global development and the well-being of people around the world. 
China will, as always, support the UN in coordinating efforts for the implementation of the 2030 Agenda. We will actively work with the international community, including UN development agencies, to advance the implementation of the GDI, and make contributions to accelerating the implementation of the 2030 Agenda. 
Shenzhen TV: US Assistant Secretary of State Brian Nichols said last month he does not expect that the US would invite leaders of Cuba, Nicaragua and Venezuela to June's Summit of the Americas in Los Angeles. We noted that in response, Mexican President Andrés Manuel López Obrador said during his visit to Cuba that he would ask the US leader not to exclude any country from the Summit. Does China have any comment?
Zhao Lijian: I have taken note of relevant reports. President López Obrador has made a point. I wonder, aren't Cuba, Nicaragua and Venezuela countries of the Americas? The Summit of the Americas should not be gauged exclusively by US standards, serve US interests only, or be reduced to a "Summit of the United States of America".
Next year will mark the 200th anniversary of the enunciation of Monroe Doctrine. Over the past two centuries, the US has been talking about "America for the Americans". But what it did shows that "Americans" in the expression refer to the people of the United States of America only. Taking Latin America as its own backyard, the US didn't commit itself to helping Latin America, but wantonly bullied it. Instead of benefiting Latin America with its own development and prosperity, the US has brought Latin America wanton exploitation, willful sanctions, inflation, political interference, regime change, assassination of politicians and even armed aggression. Even till this day, despite the opposition of the international community and regional countries, the US is still bent on sustaining the unilateral and illegal sanctions on some Latin American countries. All this is at odds with Latin American countries' pursuit of development through cooperation with other countries. The US lacks basic respect for Latin American countries. 
The US should earnestly respect Latin American countries' sovereignty and dignity, and play by basic norms governing international relations. I also want to stress that Monroe Doctrine has no audience in  today's Latin America, and the US shall not expect to replicate it in other places in the world. 
Xinhua News Agency: The interim government of Guinea recently announced a 39-month transition plan. What is China's comment?
Zhao Lijian: China has noted the transition plan released by Guinea, which is a key step forward in Guinea's political transition. China calls for resolving African issues in the African way by the African people, and supports all sides in Guinea in keeping dialogue going and maintaining friendly communication and consultation with international and regional organizations, especially the African Union and the Economic Community of West African States. We also hope the international community can give full support to Guinea for the steady progress of the political transition. China will continue to play a positive role in this regard.
Yonhap News Agency: The inauguration ceremony of ROK President Yoon Suk-yeol is held today. What is China's expectations for and comments on its relations with the ROK after the new government is sworn in? 
Zhao Lijian: China extends congratulations to President Yoon Suk-yeol on his official inauguration again. President Xi Jinping's special representative, Vice President Wang Qishan, led a delegation to attend today's inauguration ceremony of President Yoon and will have a bilateral meeting with him.
China and the ROK are and will remain neighbors. We are also each other's important cooperative partners with extensive common interests. This year marks the 30th anniversary of the diplomatic ties between the two countries. China is ready to work together with the new government and all sectors of the ROK to keep China-ROK strategic cooperative partnership moving in sync with the times, embarking on new levels and delivering more benefits to the two countries and peoples, so as to jointly promote regional peace, stability and prosperity.
CNR: According to reports, Egypt's security forces posted at a water-pumping station east of the Suez Canal on the Sinai Peninsula were attacked on May 8, leaving at least 11 people dead. The Islamic State has claimed responsibility. What is China's comment?
Zhao Lijian: China strongly condemns this terrorist attack. China and Egypt are comprehensive strategic partners. China firmly supports Egypt's efforts in fighting terrorism and defending national stability.
Bloomberg: Violence has erupted in Sri Lanka again after the Prime Minister resigned. Local reports say that protesters targeted the homes and properties of ruling-party lawmakers. Does the foreign ministry have any comment about the situation in Sri Lanka?
Zhao Lijian: On May 9, bloodshed and conflict broke out in Sri Lanka's capital Colombo and other places, causing relatively large casualties. Sri Lanka's police have enforced curfew so far. The Chinese side is closely following the development of the situation. We believe that with the joint efforts of all sectors of Sri Lanka, the country will regain peace and stability as soon as possible.