Foreign Ministry Spokesperson Mao Ning's Regular Press Conference on February 3, 2023
---
2023-02-03 20:49
Shenzhen TV: It is learned that the Export-Import Bank of China has provided Sri Lanka a letter as required, offering an extension on the debt service due in the next two years and saying it would like to have friendly consultation with Sri Lanka regarding medium- and long-term debt treatment. Can you confirm this?
Mao Ning: On January 19, the Export-Import Bank of China, as the official bilateral creditor, provided a financing support document to the Ministry of Finance, Economic Stabilization and National Policies of Sri Lanka, saying the Bank is going to provide an extension on the debt service due in 2022 and 2023, which means Sri Lanka will not have to repay the principal and interest due of the Bank's loans during the above-mentioned period, so as to help relieve Sri Lanka's short-term debt repayment pressure; meanwhile, the Bank would like to have friendly consultation with Sri Lanka regarding medium- and long-term debt treatment in this window period; and the Bank will make best efforts to contribute to the debt sustainability of Sri Lanka. The Bank also noted that it will support Sri Lanka in its loan application to the IMF; in the meantime, the Bank will continuously call on commercial creditors (including the International Sovereign Bondholders) to provide debt treatment in an equally comparable manner, and encourage multilateral creditors to do their utmost to make corresponding contributions.
As we have said several times, as a friendly neighbor and true friend, China has been providing assistance for Sri Lanka's economic and social development to the best of our capabilities. The financing support document is aimed at combining an "immediate contingency measure" and "medium- and long-term debt treatment" to rapidly, effectively and truly resolve Sri Lanka's debt issue. As far as I have learned, China is the first official bilateral creditor to have taken the initiative to announce debt extension to Sri Lanka. This speaks to China's sincerity and action to support Sri Lanka's effort to achieve debt sustainability.
China calls on all other creditors of Sri Lanka, especially multilateral creditors, to take synchronized, similar steps and give effective, strong support to Sri Lanka to help the country emerge from its default status at an early date and eventually work out an arrangement for Sri Lanka to achieve medium- and long-term debt sustainability. China also calls on the IMF to take into full consideration the urgency of the situation in Sri Lanka and provide loan support as soon as possible to relieve the country's liquidity strain.
Going forward, China will continue to support relevant financial institutions in actively working out the debt treatment. We will work with relevant countries and international financial institutions to jointly play a positive role in helping Sri Lanka navigate the situation, ease its debt burden and achieve sustainable development.
CNN: Pentagon officials said that over the past few days, they have been monitoring a high-altitude surveillance balloon that they believe is from China. I wonder if you can confirm this and offer any comments. And will this revelation have any impact on the expected visit by Secretary Blinken to China and the program of the visit, including his expected meeting with the Chinese leader? 
Mao Ning: I have noted relevant reports. We are gathering and verifying the facts.  
As to whether Secretary Blinken will visit China, I have nothing to offer at the moment.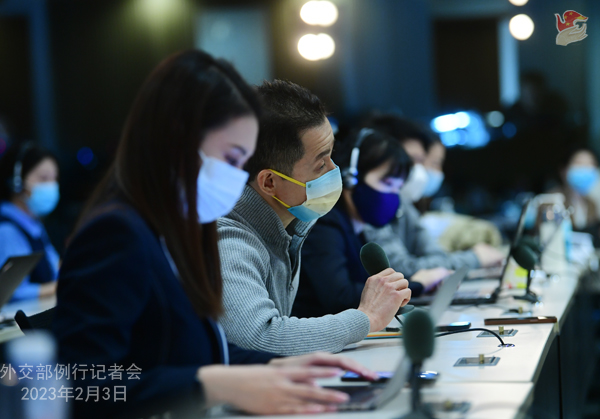 CNN: The US military has also said that it is not the first time that high-altitude surveillance balloons from China have been discovered in the US airspace and they have expressed the hope several times to maintain communication with the Chinese side via multiple channels. But after Speaker Pelosi's visit to Taiwan, the Chinese side has suspended mil-to-mil talks with the US. Does this incident highlight the importance and urgency of resuming China-US mil-to-mil talks?
Mao Ning: China is a responsible country and we always act in accordance with international law. We have no intention to violate the territory or airspace of any sovereign country. As I said, we are gathering and verifying the facts. We hope both sides can handle the matter together in a cool-headed and prudent manner.
CCTV: Tomorrow marks the one-year anniversary of the Beijing Winter Olympics. The International Olympic Committee (IOC) commended the achievements and influence of the Games in a recent article. The Olympic Games Executive Director of the IOC hailed the lasting social and economic benefits of Beijing 2022 as well as its legacy in energy conservation and environmental protection. What's your comment?
Mao Ning: In 2022, China hosted a successful Beijing Winter Olympic and Paralympic Games, presenting a streamlined, safe and splendid sports event to the world. 
Beijing 2022 is the first Olympics to have delivered on the Olympic Agenda 2020's recommendations on sustainability throughout the whole process and executed holistic planning and management of the Olympic legacy. All the venues were powered with renewable energy. Energy-efficient and clean-energy vehicles accounted for nearly 85 percent of all the vehicles used. Natural carbon dioxide refrigeration systems and other carbon-reduction technologies were used for the first time. All these helped deliver a carbon-neutral event. From the clean energy powering the venues to the smaller-than-expected Olympic flame, Beijing 2022 honored the pledge of hosting a green event and demonstrated China's commitment to ecological conservation and implementation of the UN's sustainable development goals.
The rich legacy of Beijing 2022 is also reflected in its lasting contribution to socioeconomic development. Currently, all the competition venues are open to the public and athletes, promoting fitness-for-all programs and the development of competitive sports. At the same time, by hosting high-level competitions, launching mountain outdoor sports activities and introducing feature tourism and recreation, efforts have been made towards year-round operation of the venues, offering new ideas for the post-Games use of international sports venues.
China will continue to review the good practices of Beijing 2022 and enhance exchange and cooperation with all parties to contribute more to the Olympic Movement.
People's Daily: Recently, a Philippine support organization for "comfort women" victims and "comfort women" survivors rallied to protest against the Japanese government because the latter has chosen to ignore once again its brutal forced recruitment of "comfort women" in its latest human rights report for the Universal Periodic Review (UPR) submitted to the UN Human Rights Council (UNHRC) in disregard of opposition from its neighbors. Do you have any comment?
Mao Ning: The forced recruitment of "comfort women" is a serious crime against humanity of Japanese militarism. This is supported by solid, undeniable historical evidence. On January 31, the UPR Working Group conducted the review of Japan during the 42nd session in Geneva. China's delegate once again expressed strong concerns over Japan's downplay and evasion of its historical responsibility for the crimes on issues including the "comfort women".
No one should expect to whitewash themselves by hiding historical facts or deflecting responsibilities. Denying and refusing to reflect on one's guilt will not help one to embrace the future. We again urge Japan to draw lessons from the history of its aggression, honestly and properly address this and other issues left from history, and face up to its responsibility to its Asian neighbors and the larger international community.
Kyodo News: Earlier today, Japanese Foreign Minister Yoshimasa Hayashi said at a press conference that during his phone call with Chinese Foreign Minister Qin Gang, he was invited once again to visit China. Can you share the program and arrangements of the Japanese Foreign Minister's visit to China?
Mao Ning: China and Japan have maintained exchanges at various levels. A stable and constructive China-Japan relationship that meets the needs of the new era serves the interests of both countries. As for the visit you asked about, I have nothing to share at the moment.
Global Times: US Secretary of State Antony Blinken said in his remarks to the International Religious Freedom Summit that this past November, the US named a dozen nations as "Countries of Particular Concern" because of their egregious violations of religious freedom, including China's "perpetrating an ongoing genocide against predominantly Muslim Uyghurs". Do you have any comment?
Mao Ning: Those remarks are contrary to the basic facts and deeply rooted in ideological bias. They constitute grave interference in China's internal affairs. We are firmly opposed to that.
The Chinese government protects citizens' freedom of religious belief in accordance with the law. People of all ethnic groups in China are fully entitled to the freedom of religious belief as prescribed by law. In China, there are nearly 200 million religious believers, over 380,000 clerical personnel, about 5,500 religious groups and over 140,000 places of worship registered for religious activities, including about 24,000 mosques in Xinjiang alone. But the picture in the US is quite different —75 percent of American Muslims believe that serious discrimination exists in the American society against Muslims. The US is in no position to point fingers at China on this issue.
The accusation that China has been "perpetrating genocide" is nothing but an egregious lie propagated by the US side. Xinjiang enjoys social stability, economic development, ethnic solidarity, religious harmony and rising living standards. For more than 60 years since the Xinjiang Uyghur Autonomous Region was established, the region's economy has grown 160 times. Its Uyghur population expanded from 2.2 million to about 12 million, and average life expectancy there increased from 30 to 74.7 years. Despite these facts, the US has kept peddling disinformation about Xinjiang to use it to contain China and find a pretext to keep China down. The international community can see this clearly.
We urge the US to respect the facts and stop using the so-called human rights, religious and ethnic issues to meddle in China's internal affairs and to seek to hold back China's development.
AFP: With regard to the spy balloon, I would like to confirm that based on information the foreign ministry has gathered so far, is the Chinese side still looking forward to a visit by Secretary Blinken? There's no change to the plan, right?
Mao Ning: As to whether Secretary Blinken will visit China, I have nothing to share at the moment.
Wall Street Journal: I know you cannot confirm any information about the alleged balloon over the US, but could you confirm whether the US and China have been in contact over the past 24 hours about this issue whether at a diplomatic level or any communication between the two militaries? 
Mao Ning: As I said, the Chinese side is gathering and verifying the facts. We hope that both sides will handle this matter together in a cool-headed and prudent manner.
Prasar Bharati: Basically a clarification again on the Sri Lankan debt issue. Yesterday, in response to my question, you stated China's position on this matter and today again you have reiterated that. Is there any communication with the IMF wherein the IMF has confirmed that Chinese assurances to Sri Lanka are credible, sufficient and enough? 
Mao Ning: We hope the IMF will take into full consideration the situation on the ground in Sri Lanka and provide loan support as soon as possible so as to relieve the country's liquidity strain.
RIA Novosti: Russian Foreign Minister Sergey Lavrov said that Russia-China relations are mutually beneficial. He also stressed that Russia is not in a subordinate position in its relationship with China. Does the foreign ministry have any comment? 
Mao Ning: China-Russia relationship is based on non-alliance, non-confrontation and non-targeting of any third party. It is grounded in a clear logic of history and driven by strong internal dynamics. Under the strategic guidance of the two heads of state, both sides will continue to advance cooperation in various fields and deliver more benefits to the two peoples.
ARD German Television: I have one question concerning the planned visit of Antony Blinken. Can you give us more details about this, when he's coming, who he's meeting if he's coming?
Mao Ning: I have nothing to share at the moment.
Reuters: US CIA Director William Burns said on Thursday that the Chinese leader's ambitions towards Taiwan should not be underestimated despite him likely being sobered by the performance of Russia's military in Ukraine. Do you have any comment on this? 
Mao Ning: Taiwan is an inalienable part of China's territory. The Taiwan question is entirely China's internal affair. The Taiwan question and the Ukraine issue are different in nature and are not comparable at all. Resolving the Taiwan question is a matter for the Chinese and must be decided by Chinese ourselves. The tensions across the Taiwan Strait are caused by the DPP authorities, which have kept soliciting US support for "Taiwan independence", and some people in the US, who intend to use Taiwan to contain China. The US should credibly abide by the one-China principle and the three China-US joint communiqués, deliver on US leaders' commitment of not supporting "Taiwan independence", stop all forms of official interaction and military contact with Taiwan, stop meddling in the Taiwan question, and stop creating new factors that could lead to tensions in the Taiwan Strait.  
Bloomberg: UK Prime Minister Rishi Sunak and Australian Prime Minister Anthony Albanese are expected to go to Washington in mid-March to potentially unveil a proposal for Australia's nuclear submarine project. Does the foreign ministry have a comment on this? 
Mao Ning: As we have repeatedly stressed, the US, the UK and Australia's decision to conduct and advance nuclear submarine cooperation constitutes serious nuclear proliferation risks, exacerbates arms race and hurts regional peace and stability. China is deeply concerned and firmly opposed to it. This trilateral cooperation has drawn growing international concern.
We urge the three countries to heed the international community's call, earnestly fulfill their non-proliferation obligations, cancel the decision to pursue nuclear submarine cooperation, and take concrete actions to safeguard regional and global peace and security.